Metal Frame Anchors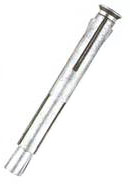 The metal frame anchors for window and door frames.

For fixing of plastic, wood, aluminum window and door frames to concrete, brick, hollow block sand cheeker brick. yellow zinc plated passivated steel screw with special pozi.
Drive head adapted to receive push-in caps of various colors.
Cap colors: white, dark brown, gray.
Tapered expansion nut made from high grade zinc alloy die casting.
Galvanized steel fitting with steel sleeve machine screw and colors cap.